It is officially SUMMER! and one of the main events of the summer for most people are WEDDINGS! yes folks, that is right, get your best church dresses out and stick that fascinator on your head because ladies…. it's wedding time!
I have been invited to a wedding at the very start of August. Unfortunately I can't stay for the whole day but I am going to the church part, so with that I have a very specific look that I am trying to go for. I can't be too blingy, too dressy, dress can't be too long, can't have big poofy shoulders and definitely not too sexy (I'm looking at you miss Sophie Turner of GOT.. why? just why would you wear that?). As a plus size girl I find it hard to find a dress to fit in to those parameters because everything and i mean EV-RE-THING is exactly like that. All I want is a simple dress that I can maybe dress up a little with some jewellery or have a nice enough pattern on it that I don't need to. There are times when I can find the perfect dress and it's like £100+ and I'm like "I ain't spending that type of money to wear a dress for a few hours and only wear it once. no thank you." and the other thing that is really putting me off this season are the colours as they are… horrendous. All everyone seems to have is like bright primary colour red, green or blue or a highlighter yellow dress. Then on the flip side of that the pinky, nude, peachy colour that I can't wear because I'm so pale and because I've just highlighted my hair it would not go. STRESS!!
To add to all my worries and woes about dresses I'm already planning the accessories because when you have a look in your head you want to make sure it is styled to perfection. I have seen a pair of gold shoes that I like which are to die for! they are so pretty! and they are totally the kind of investment I need in my life right now. They are by Michelle Keegan for Very and you can purchase them here. Just look how pretty they are: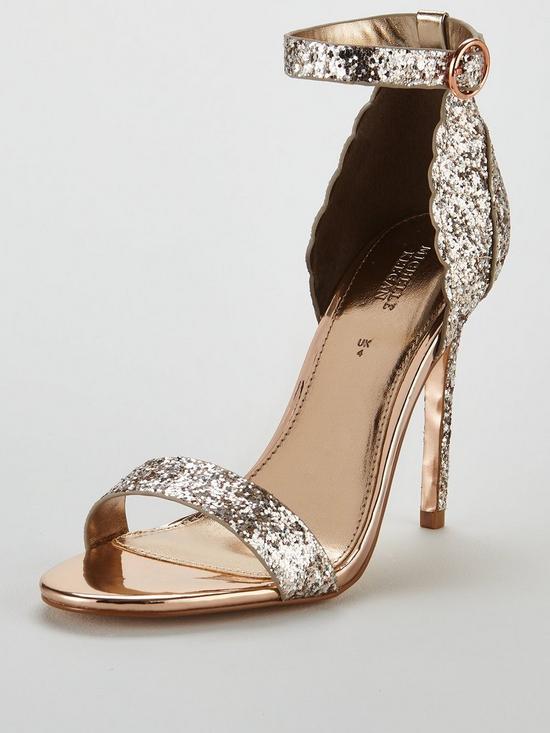 Apart from the shoes though, I can't really make a decision on anything else. I have tried to not think about the shoes and try to find the dress first, I even know what kind of colour I want for my dress (navy blue). I was thinking about wearing a fascinator because I think they are so fun, and with it being summer, and being in a stuffy church for a few hours in the morning you'll sweat a bit and your hair might mess up so it would hide your imperfections but is there an etiquette for wearing one? Do you have to be in the family circle to wear one? do you have to be in the best friend circle? can anybody wear one? do you have to take it off during the service? all these questions just for one little hair accessory. To answer them myself I'm still not sure but hopefully when I get my outfit together I will know what feels right and what doesn't.
Apart from the getting ready for a wedding, I actually love weddings. I'm super excited myself to get married one day and on my invitations it shall read "fascinators welcome" just as a heads up to all those ladies who are just unsure.
Does anyone else have any other wedding stress? wether it be guest, family member, bride or groom. Let me know in the comments below.
Much love,
Natalie xx